As more and more people are now looking to other types of venues to hold events and celebrations, marquee parties are becoming a very popular option for many different reasons. Marquees are now being used to celebrate weddings, anniversary festivities and birthday parties as well as holding charity events and corporate functions. A marquee looks very impressive and is especially outstandingly striking when decorated appropriately and tastefully.
As there are a multitude of options available to you, you'll be spoiled for choice when it comes to choosing décor for your marquee. To give you some inspiration, we have put together our top 4 marquee party décor ideas!
Lighting
One of the best ways to create an ambience for your marquee event is to select the correct lighting. For an elegant or romantic feel, candlelight is a good option. Candelabras placed around the marquee as well as tea lights sitting in some attractive holders on tables will create a beautiful ambience. Uplighters placed strategically around the marquee also produce a wonderful visual effect while providing necessary lighting at the same time. If you are using drapes in your décor design, why not secure a black drape to the ceiling of the marquee and place strings of LED lights running across them to create a sort of 'night sky' effect? The resulting effect is quite magical!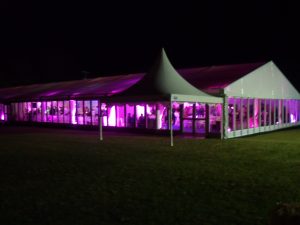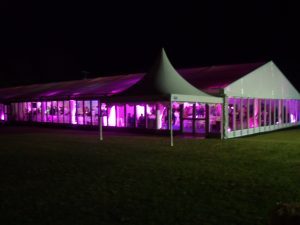 Drapes
The use of drapes to decorate a marquee is a fantastic way to create a soft and beautiful effect. You can choose from any number of colours, however, if you have a theme in mind for your event, try to complement the colours of your drapes to that theme. For example, if you are having a black-tie event then black, white and silver drapes would best complement your theme. You can also choose marquee linings that are attached to the interior of the marquee to give it a very elegant and classy feel. These marquee linings can also be complemented with matching swags or bunting.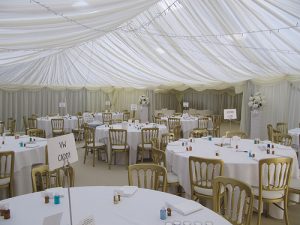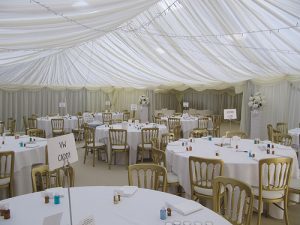 Balloons
Balloons can be tastefully arranged around your marquee to really give it that party feel. Helium balloon bouquets placed around the general area are a great way to decorate the space and again, remember to tie the colour of the balloons in with your overall theme or event type. Balloon columns and balloon arches are also other popular features of marquee party décor that look equally as impressive.
Celling decorations
Hanging some attractive decorations from the ceiling of your marquee is a great way to decorate that open space, especially if your marquee is quite big. An innovative way of creating a stunningly decorative effect is to hang coloured rice paper lanterns at varying heights around your marquee. Alternatively, for a similarly striking effect, you can hang large pompoms that are made from tissue paper, fabric or tulle from the ceiling.
A tastefully decorated marquee will add that little extra wow-factor to your party. With a little bit of inspiration and creativity, you can transform a mundane and uninteresting-looking marquee into a wonderful space that both you and your guests can relax in and enjoy.