Planning a wedding is no easy task. There are so many things that have to be organised; from hiring a venue and accommodation for your guests, deciding on a vehicle to drive you to and from the ceremony, right down to getting the best table decorations. If your wedding is to be held outside then you are going to need a marquee.
Below is a list of five things to ask yourself when thinking about hiring a marquee for your wedding.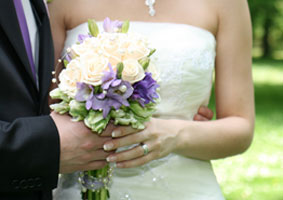 How much will it cost?
Unless you are very wealthy you are probably going to have a budget for your wedding. Hiring a marquee can be very expensive so knowing how much you have to spend before you start researching them is going to save you a lot of time and heartache. Another thing to consider when budgeting for the marquee is what are you going to fill it with? You will want to take into account the cost of tables, chairs and decorations as well as the catering and bar services.
Where is your wedding going to be held?
When using a marquee for a wedding you are no longer restricted to village halls or stately homes – you can get creative with your venue, as all you need is a patch of land. Look around your local area and think about where you want to hold your perfect wedding. Parks, castle grounds and even farms could all be hired. Just make sure you think about access and parking as well as getting permission from the landowner.
When do you need the marquee?
You are going to want to know the date of your wedding (obviously). Marquee hire companies can become inundated with bookings during the summer months so you may need to make a decision on a marquee and book it well in advance of the wedding date. Don't leave it until the last minute, look to book your marquee at least six months before the big day.
What size of marquee do you need?
This is going to go back to your budget and how big a marquee you can afford to get. More importantly, it needs to be big enough to hold all of your guests, tables, catering and bar equipment and maybe even a DJ or band and dance floor.
What power requirements do I need?
You are going to want power inside your marquee. The catering and bar staff will need it for various things; it will be needed for lighting inside the tent and for the music too. A marquee hire company will probably provide power at an additional cost but it is best to ask them and make sure.
Everybody wants his/her wedding to be perfect and a marquee plays a huge part in making this possible. Getting the right style and size of marquee is so important when it comes to giving yourself and your guests the best wedding experience possible. Hopefully this list will help you, your family and your guests to have a very memorable and special day.